White Quarterback I: Tim Tebow, Alex Smith, and The Freedom to Fail
Cross-posted at The Starting Five: 
Tim Tebow's season is over, and I suspect within the next year or two, so are his days as an NFL starting quarterback given the statistical reality of his 6-week win streak. If true, his 2011 football legacy is that his star upstaged historic seasons by Aaron Rodgers, Drew Brees, and Tom Brady.  Quite refreshingly, he has also helped ignite some excellent commentary on his intersecting racial and religious privileges. Analysis of  Tebow's off-field privileges include "What's Not to Love…: Start with his Anti-Abortion Ad"?", "Tebow Exposed", "What if Tim Tebow Were Muslim?" and "Waking Up From the National Nightmare".
On the field, Tebow's privileges were noticed two years ago as Baltimore Ravens Ray Lewis was "shocked" at the level of coaching support he received. This season, Tebow's special handling as a "run-first" quarterback has inspired "Black Quarterbacks Suffer Again", "What's Race Got to Do With It?", and "Would He Start if He Were Black?". Perhaps no commentary was more personal and powerful than that of Kordell Stewart (go to 9:30 marker). And perhaps no website has been more consistently on top of the compromised plight of "The Black Quarterback" as The Starting Five. For starters go here, here, and here.
Is Tebow's privileged status from just being white (male heterosexual Christian), or is it from just being Tebow (the Florida Gator God)? While the answer is "both", a closer look is necessary to see how much Tebow's privileges extend to other white NFL quarterbacks.
One of Tebow's greatest privileges has been his "freedom to fail". When he had a truly atrocious training camp, he wasn't cut, but promoted to back-up. When his humiliating loss against the Lions revolutionized the term "incomplete pass", he was still granted another start. When his arm failed, the offense was changed to suit his legs. If he was terrible for 58 minutes, he was never benched for the final two (yes, I'm looking at you Mike Shanahan). Those last few magical minutes were called "Tebow Time", but never "John Fox Time" (Denver's head coach). The difference between Jesus and football is that NFL Resurrections require a coach's permission.
But that was so last week and so 2011, this week's career comeback kid is San Francisco 49er Alex Smith.
First off, a sincere congratulations is due to Alex Smith who engineered two late 4th quarter drives to beat the New Orleans Saints this past playoff weekend. It was very impressive as Smith humbled his critics (read: this author!). Prior to this year, the 2005 #1 draft pick had been the subject of ridicule while posting a won-lost record of 19-31 over his first five seasons. But that has all changed now. Some already believe that Alex is close to being an "elite" quarterback.
Even if Smith gets crushed by the New York Giants this weekend and even if he returns to "the old Alex Smith" next year, Smith's pass to Vernon Davis will have already been etched in 49er playoff lore next to Montana-to-Clark, and Young-to-Owens. Now go ask any Yankee fan if Aaron Boone is a "winner", and they will talk about a certain 12th inning home run, not his .170 career post-season batting average. Whatever happens from here on out, Alex Smith has already been redeemed.
But it makes you wonder:
"What is Troy Smith thinking right now?"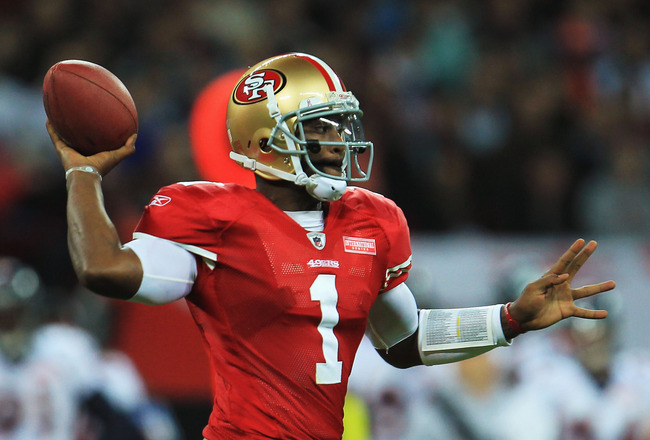 Just last year, the former Heisman Trophy winner Troy Smith shared QB duties with Alex in San Francisco. Some headlines read: "Troy Smith Does What Alex Smith Never Did" and "Troy Smith is the Real Deal". Troy posted a 3-3 record, and Alex went 3-7, and both had comparable passer ratings. In 2011, Troy Smith was seeking his own redemption with the Omaha Nighthawks of the UFL. Poof! Just like that. He went from Alex's equal to out of the NFL. In related news, the Redskins signed John Beck to compete for the Redskins starting job although he hadn't played a down in four years (he is 0-7 now for career); the 41-year old Mark Brunell was signed by the Jets, and Harvard studies confirm that employers routinely see more potential in "Alex" Smith than "Troy" Smith in virtually any profession.
But in this particular case, was Alex Smith given the freedom to fail because of his potential as a former #1 pick?
If so, it makes you wonder:
"What is the 2007 #1 pick Jamarcus Russell thinking right now?"
Wait! Before you launch into a round of fat jokes, check out the nearly identical stats of Smith and Russell over their first three years:
First 3 Seasons

Games
Started

QB
Record

Comp
%

Yards

TD

INTs

Passer Rating

Alex Smith

30

11-19

54.3

4679

19

31

63.5

JaMarcus Russell

25

7-18

52.1

4083*

18

23

65.2
*Russell had 120 fewer attempts than Smith. When total is adjusted for equal attempts, Russell's 4777 yards exceeds Smiths.
Russell even had a higher passer rating, but was gone from the league by the young age of 24. While the Raiders cut Russell to save millions, other teams could have nabbed him on the cheap. He's been gone for two years now, and he wants another chance like Alex Smith. Is anyone is listening? Even Ryan Leaf got a second look!
The vanishing of Troy Smith and Russell highlight the NFL's unwillingness to develop African-American quarterbacks during their growth years, and provide second chances after they fall – not even as back-ups. For the black quarterback, losing your starting job often means losing your job. With little exception (see Charlie Batch), the term "career-back-up" is a white thing.
"Redemption" is the freedom to fail repeatedly while still living to throw about it — otherwise known as the "The Kerry Collins Principle".  It is not just Troy and JaMarcus either.  African-American quarterbacks with the most distinguished of resumes or the highest of winning percentages are denied Alex Smith's line of credit.
And it makes you wonder:
"What are Donovan McNabb and Vince Young thinking right now?"
—————————————————————–
We'll help answer both those questions in the upcoming parts of this White Quarterback Privilege series:

 Part II: "The System Privilege": Caleb Hanie, Rex Grossman, and the Humiliation of Donovan McNabb
HANDS UP, DON'T SHOOT!

Raiders' Maurice Jones Drew

SPORTS: Power and Privilege

She Throws Like A Girl

Mo'ne Davis Leads Taney into LL World Series w/ 3-hit Shutout

Trayvon: Sports Speaks Out

SPORTS: Power and Privilege

Trayvon: Sports Speaks Out

Search