"A Warm Feeling": Athletes Offer Comfort to Family of Trayvon Martin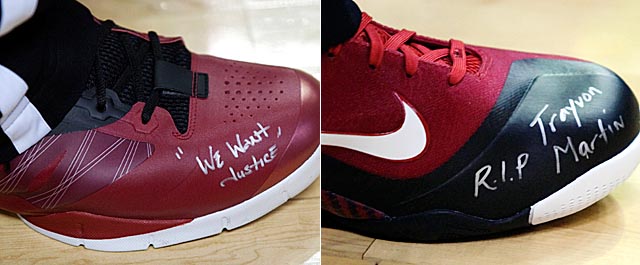 Besides drawing greater national attention to the Trayvon Martin tragedy, The Miami Heat and other outspoken athletes have provided comfort to his family. Tracy Martin, Trayvon father stated on Sunday:
"I saw a post that D-Wade had saying, 'I am Trayvon Martin", To see all these athletes put Trayvon in the same sentence with them, it feels real good. Trayvon was an excellent athlete and if he could hear them saying his name, he would be so moved by it."…

"We just couldn't imagine (anyone's) son leaving to go play basketball or go to the drugstore or go anywhere and he doesn't return"
Tracy Martin said a number of athletes have reached out to the family, asking how they can help.
A large rally is being organized in Sanford on Monday, coinciding with a city commission meeting, and more athletes are expected to attend including former NBA star Patrick Ewing,  and Baltimore Ravens linebacker Ray Lewis who plans on addressing the crowd at Monday's rally. Says Trayvon's father:
"These athletes are saying, 'It's not about who I am. It's about right and wrong.' It's like everybody's taking notice. The Miami Heat came out in their hoodies, and that's just saying, 'We are people, we have hearts, we have feelings, we have emotions.' That's a warm feeling. The sports world has embraced this big-time."
POPSpot Related:
HANDS UP, DON'T SHOOT!

Raiders' Maurice Jones Drew

SPORTS: Power and Privilege

She Throws Like A Girl

Mo'ne Davis Leads Taney into LL World Series w/ 3-hit Shutout

Trayvon: Sports Speaks Out

SPORTS: Power and Privilege

Trayvon: Sports Speaks Out

Search