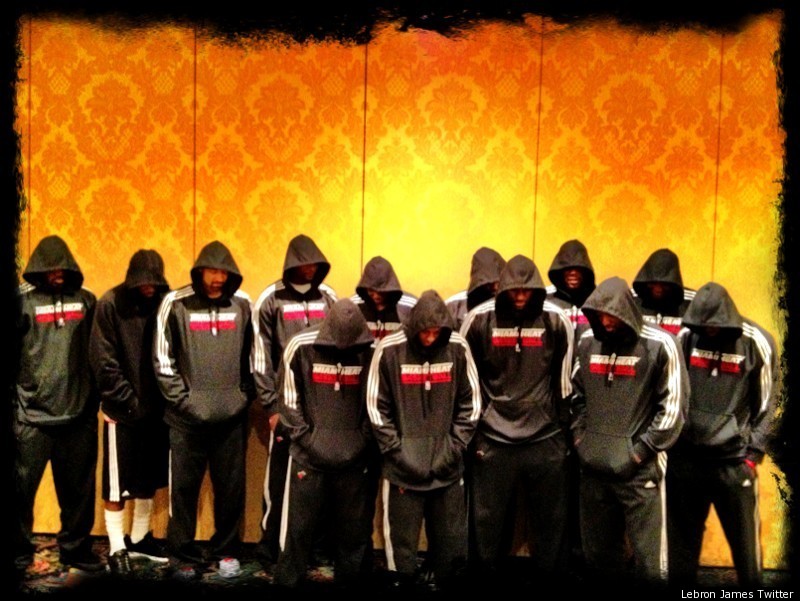 Lebron James tweets "WeWant Justice" along with the photo shot that will be heard 'round the world. The Miami Heat were unable to make The Million Hoodie March on Wednesday in New York City, but that didn't stop Lebron James and Dwayne Wade from organizing and paying tribute to Trayvon Martin. Lebron and Wade decided Thursday to make their reactions about the Martin situation public, and James felt the best way to do that was the team photo with everyone wearing hoodies.
To Lebron's plea, Dwayne Wade adds:
"This situation hit home for me because last Christmas, all my oldest son wanted as a gift was hoodies, so when I heard about this a week ago, I thought of my sons. I'm speaking up because I feel it's necessary that we get past the stereotype of young, black men and especially with our youth."

"But the Trayvon Martin case is NOT over. Keep pushing. Keep prodding. Keep planning. Keep protesting. Justice is not an overnight thing!"
Pure leadership. Now watch the coming sports wave.
Related: Teen Shot During NBA All-Star Game, Killer Still Not Arrested
HANDS UP, DON'T SHOOT!

Raiders' Maurice Jones Drew

SPORTS: Power and Privilege

She Throws Like A Girl

Mo'ne Davis Leads Taney into LL World Series w/ 3-hit Shutout

Trayvon: Sports Speaks Out

SPORTS: Power and Privilege

Trayvon: Sports Speaks Out

Search