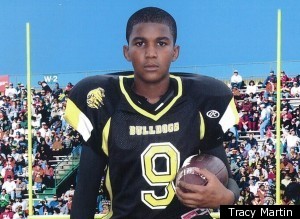 Update: Sign ColorofChange Petition for Department of Justice to Arrest George Zimmerman
The NBA All-Star Game has often been used by opportunistic sports writers to discuss the alleged "violence and mayhem" associated with it. This year, as Nicki Minaj took the stage during the game's half-time show, a young teen left an Orlando suburb to get some candy, but never returned. Until this week, it has not made national news.
Trymaine Lee of The Huffington Post reports:
Trayvon Martin, an unarmed African-American teenager, was shot and killed in a gated community in Florida late last month by a white neighborhood watch captain, according to police. But the watch captain, George Zimmerman — a 26-year-old college student who has admitted to police that he shot the young man — still walks free. And Martin's family is pleading for answers and demanding justice…

"He had a gun, and Trayvon had Skittles," Benjamin Crump, a family attorney, told The Huffington Post this afternoon.

Martin, 17, a high school junior who lived with his mother in Miami, was visiting his father and stepmother at their home in Sanford, a suburb of Orlando, on the weekend of Feb. 26. During halftime of the NBA All-Star Game, Martin's family said he walked to a nearby convenience store to get some candy for his younger brother. On his way back home, according to reports, he caught the attention of George Zimmerman, a 26-year-old college student and self-appointed captain of The Retreat at Twin Lakes neighborhood watch.

Zimmerman, armed with a 9mm handgun, trailed the boy in his car. At some point, Zimmerman called 911, telling the operator there was a "suspicious person in the area," according to a police report acquired by HuffPost…

Crump said the family is demanding that the Sanford Police arrest Zimmerman, and that the Seminole County State Attorney's Office review the case and press charges.

"They say they are still investigating," Crump said. "I'm not sure what there is to investigate. What's suspicious about this kid? That's what the family is crying out, that our kid is like any other kid."…

"Right now we're all on pins and needles," [father] Tracy Martin said. "When I asked the police why there's been no arrest, they told me they respected [Zimmerman's] background, that he studied criminal justice for four years and that he was squeaky clean."

He continued: "My question to them was, did they run my child's background check? They said yes. I asked them what they came up with, and they said nothing. So I asked if Zimmerman having a clean record, did that give him the right to shoot and kill an unarmed kid?"
Trayvon's father's critical question is one of many, and the most immediate is:
"Why hasn't George Zimmerman been arrested?"
The same article includes the following update and the deference shown to Zimmerman (bold emphasis is mine):
Chief Bill Lee of the Sanford Police Department on Thursday evening said the account given by Martin's family and attorney is correct…

"For some reason he felt that Trayvon, the way that he was walking or appeared seemed suspicious to him," Lee said. "He called this in and at one part of this initial call [the dispatcher] recommends him not to follow Trayvon. A police officer is on the way at that point."

Lee said that Zimmerman instead followed Martin.

"I believe that Mr. Zimmerman was trying to, by his account, find an address to give the officers and also trying to keep Trayvon in eyesight."

Zimmerman told the police that Martin noticed that he was being followed and asked, "what's your problem?"

That's when a physical confrontation ensued, Lee said. And moments later, Martin was shot.

Lee said that Zimmerman has a legal permit to carry the weapon used in the shooting, and that he told police that he shot Martin in self-defense.

"He felt the need to defend himself," Lee said. "I don't think it was his intent to go and shoot somebody" that night.
Sanford Chief Bill Lee's statement sheds light on why Zimmerman is walking free despite a dead teen and the fact that Zimmerman consciously disobeyed the police recommendation not to follow Martin. Chief Bill Lee is on record with his subjective opinion in believing that Zimmerman was "trying to find an address". The Chief didn't just report Zimmerman's account, but reported that he believed his account.
The Chief also felt the need to surmise his own personal opinion on what was Zimmerman's "intent", as if such semantics matter to any parent who loses their son in such circumstances. "Intent" can be left for the courts to differentiate whether Zimmerman should receive a "manslaughter" or "murder" charge. "Impact" is a dead teen. Zimmerman only walks free because of the incredible institutional privilege and benefit of the doubt that he has thus far received from Sanford's Chief of Police. Says Raving Black Lunatic who has two young boys of his own:
"Are we strong enough as a nation to make an example out of Mr. Zimmerman. To make it abundantly clear that his actions are not acceptable. That he can't explain away the unjustified murder of a black boy using the same tired racial code words and lies. Will the American justice system do that to a white man? Will that message be sent? Or will black folks receive one more reminder of what our lives are worth, and what the lives of our children are worth?"
The quote and case provide broader institutional questions about race, crime, profiling, punishment, privilege, and perceptions. A great starting point comes via Dr. Michelle Alexander's "The New Jim Crow: Mass Incarceration in the Age of Colorblindness".
Amongst the many angles that need to be investigated, explored, and discussed is the potential psychological local impact of scrutiny around the NBA All-Star game that produced heightened safety concerns, a police crackdown on prostitution, and a  controversial 8-foot fence built around Orlando's Amway arena. Did this climate of protection around the Orlando area contribute to an already existing climate of fear to produce an extra close community watch and an extra-itchy trigger finger?
Of course, this is not to state a direct legal causal link between the two, but merely enough of one to satisfy the very low media bar of inducing a conversation amongst sports talk radio and pundits. Far lesser connections of violence surrounding NBA All-Star Game has not stopped  such national discussion in the past.
But even that discussion could wait until after all is done to bring the killer of Trayvon Martin to justice.
HANDS UP, DON'T SHOOT!

Raiders' Maurice Jones Drew

SPORTS: Power and Privilege

She Throws Like A Girl

Mo'ne Davis Leads Taney into LL World Series w/ 3-hit Shutout

Trayvon: Sports Speaks Out

SPORTS: Power and Privilege

Trayvon: Sports Speaks Out

Search