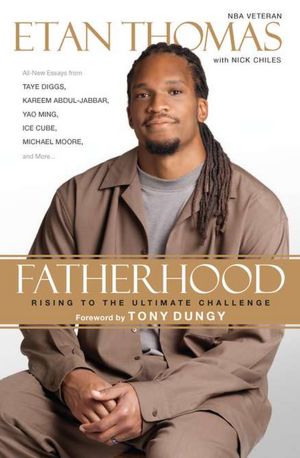 Happy belated Fathers Day! In his new book Fatherhood: Rising to The Ultimate Challenge, former NBA player Etan Thomas writes the book he "wish [he] had as a young boy."  Thomas says:
"Because I wanted the book to be as broad and inspirational and educational as possible, I called upon a wide range of men to assist me, to write essays about their own experiences with fatherhood and about how they were able to overcome fatherlessness as young men."
Thomas speaks with over 40 men with about half being sports figures and the other half being celebrities that include politicians (Howard Dean; Rep. Elijah Cummings), hip-hop artists (Talib Kweli, Ice Cube, Chuck D), famous offspring (Malcom Shabazz, Damian Marley), and sports journalists (Dave Zirin; David Aldridge).
Listen to Etan Thomas — whose first book was "More Than an Athlete" – talk about his book at Edge of Sports Radio (39 min marker).
Below are snippets from eight of the athletes profiled in the new book:
Andre Agassi (p. 72-73)
"Like many first-generation immigrants, my father showed his love in an old-school way. It was more physical than verbal. He challenged us to evolve, which didn't always feel like love at the time, but now I know that it really was pure love. Old-school parenting usually involved pushing from behind rather than inspiring from in front. We didn't end conversations with, "I love you." The love and protection were tangible, but lived out quietly. His love compelled him to be very demanding of his children, which made me wish at the time that he would go love something else for a while. Looking back, my feelings were similar to a quote from Fiddler on the   Roof: "I know we're your chosen people, but could you choose someone else for a while?"

My wife, Stefanie, and I have broken the chain of that old-school environment in our home with our children, who are ten and eight. Our affection is physical, it is verbal, and it is nonstop. The default setting is fun and laughter. If a child can feel the safety and consistency of a positive environment, then it gives a parent far more leverage when there needs to be discipline. When our children misbehave, many times nothing more than a look of displeasure gets them back on track. They are so in tune with our emotions, and so dependent on our approval, that when it is interrupted by their actions, they can self-correct in order to right the relationship."
John Carlos (p. 99-100)
"The courage that I had to take the public stance we took in 1968 at the Olympics was directly instilled in me by my father from the time I was a little kid running around on Lenox Avenue. He would use someone like Jackie Robinson. I would go to the YMCA on 135th Street and Lenox and watch videos of him when he first broke the color barrier in major league baseball. My father used these videos to show us the sacrifices that Jackie Robinson had to make and what he had to endure. He made us have a clear understanding that Robinson wasn't just concerned about Robinson, but rather about all the young people who would follow in his footsteps…

He spoke to me a lot about Paul Robeson. He would talk about how dignified an individual he was. And about how proud he was as a black man. How he was not one to take the backseat on the bus. He explained to us how he was not only a world-class athlete, but he was highly educated and a Rhodes Scholar. He was teaching me that his athletic gifts were only a small piece of who this person was as a whole."
Baron Davis (p. 157-158)
I grew up on welfare. My mom and dad were never married, and   they turned to a life of drugs and, with my dad, a life of drugs and crime. By the age of four, when I could recognize what was going on, he was never around. We went from my mom having a good job and being a single parent to all of a sudden being evicted and basically living on the street if it wasn't for my grandparents taking me and my baby sister in. I can recall living in burned-down houses and motels. My dad was the dude who was never around. Like with anyone on drugs, there were lies and infrequent visits. I just never knew who he was. As a kid I had no connection to the dude that made me.

I grew up in South Central Los Angeles, in a Bloods neighborhood, but we were surrounded by Crips. A lot of people in my family grew up in gangs. I was a first-generation gang member, from the time I was able to walk and talk. I was in it, lived it, was part of it. But at the same time, as a kid I was innocent. All I wanted to do was play. When I was a child, basketball was my escape, my therapy for not having a stable lifestyle or parents or anybody to talk to or communicate with or turn to. I was a kid living in my own world, having to deal with a lot of adults. Basketball was the only thing that helped me stay a kid.
Kevin Durant (p. 162-164)
"My earliest memories are of my parents not being together. It was just me, my brother, and my mother. I would see my father maybe once a month, if I was lucky. That was the visitation schedule that was put in place. That was the nature of our relationship from age four to about eleven. Then when I was eleven and in middle school, my parents began to get back together. It was a little strange at first, because I had lived apart from him for so long, but my mother seemed happy, so I was happy for her. I began to develop a closer relationship with my dad during that time. I was beginning to enjoy some of the things that came along with having your dad actually live with you.

…I also had a godfather, Torris Brown, who did all of the things for me a father would do for his son when I was growing up. He would talk to me, take me to movies, get on me when I was messing up, play catch— you know, regular stuff that people living with their fathers who get that every day take for granted."
Tony Hawk (p.6):
"The most important lesson I learned from my father is to be actively involved in your child's life. My dad was not the most communicative, nurturing, or friendliest person around. But he took an interest in what I did, and gave me endless support. Considering I chose to do something different and generally frowned-upon (skateboarding as a career path was definitely not applauded in the early eighties), this was huge.

He drove me to the skate parks and most of the skating events in Southern California, and eventually he formed a professional competition series when there was none. Compared to the dads of my friends who skated, my dad was a hero; their parents didn't want them skating at all. My dad and I had plenty of disagreements during our years together, but I always knew how lucky I was, and I didn't take his support for granted. In fact, it set me up to be an effective father in my own way."
Joe Johnson (p. 231)
"My mom played the role of both mom and dad for me, and she did an incredible job. I'm a living testament to a mother being able to play both roles.   I know you hear all of the experts say how messed up a kid coming from that type of a situation is supposed to be, but actually I think it helped me. I saw how hard my mother was working, and it made me work that much harder.

I saw my mother bustin' her butt to do everything she could for me. My love in return was to do my best so that she would never have to work again. That's not to say that it was easy, and there were definitely outside factors that were pulling on me to do wrong, but I knew how hard my mother worked and how much it would break her heart if I did wrong."
Joakim Noah (p. 120)
"The athletic genes must run in my family, since my father was a professional athlete himself. He was a tennis player (Yannick Noah) who was discovered by Arthur Ashe. As a kid growing up in Africa he would play tennis with wooden paddles. Ashe was doing a tour in Africa for kids and he came across my father, who was ten at the time. He thought my father had a great deal of talent, exceptional hand-eye coordination, and saw something in him.

Ashe called his agent, a man by the name of Donald Dell, and said, "I really like this kid; I want to help him out." Two years later, at the age of twelve, my father decided to leave Cameroon, essentially sacrificing his childhood so that he could go to boarding school to become a tennis player. On the same wooden paddle that my dad had grown up playing tennis on, Arthur signed, "See you at Wimbledon." Eventually, my father's hard work and self-sacrifice paid off, since he became the best junior player in France and, at the age of sixteen, ended up playing doubles with Arthur Ashe at Wimbledon. This story is part of my heritage, something I will never forget."
Chris Paul (p. 34-36):
"I've already had so many fun times with my son, and he's only a year and a half. His name is Christopher Emanuel Paul II. Growing up, I was fortunate enough to have a mom and dad always there for me in everything I've done. But playing in the NBA, it's kind of a given that I will miss some things. I feel I was fortunate that I was there for his birth. It was in the summer, May 24, 2009, and we were not in the play-offs. I took pictures then and I'm still taking pictures of him all the time. Since I've been in the league, I've always treated my teammates' kids like they were my own. I just love kids. Now to have my own son is the best thing ever.

…I wrote a children's book called Long Shot: Never Too Small to Dream Big that came out just around the time that he was born. It's crazy now to read the book to him, because he's looking through it and looking at all the pictures of a book that I wrote. It's surreal. NBA players get stereotyped that we just make our wives do everything with the kids. But I'm so against that. When I'm home, I'm going to pick him up from school. I put him to sleep, take him in the bathroom and bathe him. Those things are priceless."
Serena Wins 50th Title!

SPORTS: Power and Privilege

SPORTS: Power and Privilege

Search