G – Magic 
G – Isiah
F – Larry
F – Bernard
C – Kareem/Moses
No last names are necessary.
These men make up the 1st team All-NBA stars in Bernard King's last two Knick seasons before he blew out his knee in March 1985 – the same year he led the NBA in scoring. This is the company King kept.
In 1984, King would produce a half-season scoring tear never duplicated in NBA history; upset the Pistons in the greatest playoff series performance in NBA history, and almost single-handedly upended the 1984 Celtics — one of greatest teams in NBA history.  In 1984, Bernard could be found in dated Converse commercials, rap songs, and Sports Illustrated covers which bowed to "His Royal Highness". It read: "Bernard King Raises the Game to a Whole New Level".
With an unstoppable Carmelo Anthony balling like its 1984, and reports of Bernard's induction into the Naismith Hall of Fame, The Invisible King will receive another bow this week.
While starving King fans will naturally celebrate, something just isn't right. King's 15 minutes of crumbs come too little, too late – 15 years to be exact. We could only hope this week will help raise the debate to a whole new level.
Bernard's rightful place is in the Hall of Legends.
Where did The King stand amongst the greats? Let's ask them
"Bernard King was the toughest matchup of my career. And I say that from the heart." – Julius Erving [HOF 1993]

"Bernard King… is the best forward in the league, hands down".  — Larry Bird [HOF 1998]

"We are just in awe of Bernard" — Isiah Thomas [HOF 2000]
Now consider that Larry and Isiah's praise came before the 1984 playoffs and epic Showdown in Motown where
KING AVERAGED 42 PLAYOFF POINTS ON 60% SHOOTING!
No other player in NBA history has ever averaged over 40 playoff points on 60% shooting in the playoffs – not Wilt in '62, not Jerry in '65, and not Michael in '88.  Not Kareem, Shaq, Kobe, or Lebron.
Only Bernard King.
King also did it while battling Isiah, the flu, and dislocated fingers in both hands.
Afterwards, King was asked about his "hot streak". Bernard asked back:
"At what point is it no longer considered just a roll?"
Answer: The rest of your life Bernard. The rest of your life.
King's perceived eruption on a national stage was no hot streak.
What happened right before it was even more incredible:
IN 1984, KING AVERAGED 30 POINTS ON 60% SHOOTING OVER 40 STRAIGHT GAMES! [1]

Lebron, please read that again.
No other player in NBA history has likely ever matched this half-season stretch [2].
In the playoffs, the unstoppable King simply took more shots. That's all.
For the few mesmerized souls who watched those games on WWOR Channel 9, King's "30@60for40" validates that we aren't suffering from nostalgia gone wild.
Bernard King was who we thought he was.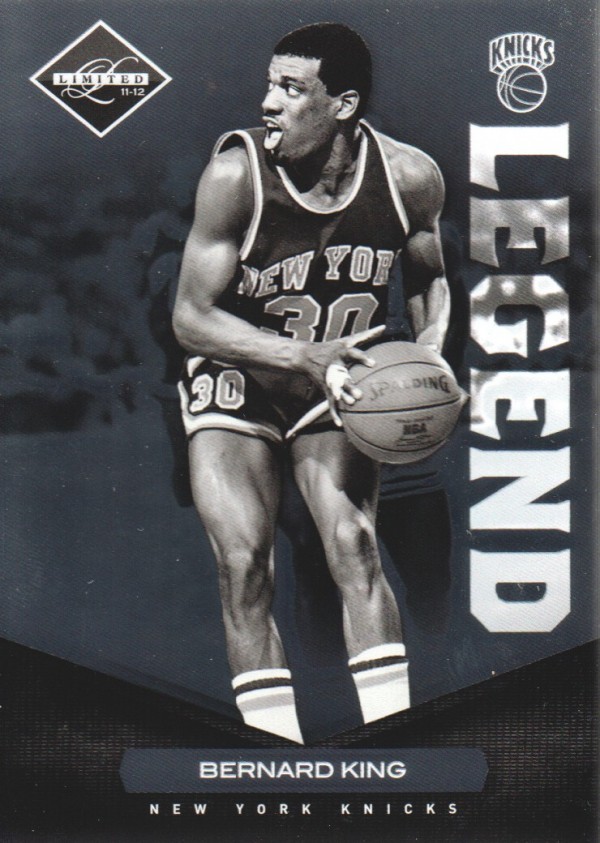 Unlike Knick legends Patrick Ewing, Walt Frazier, and Willis Reed, no one more than Bernard transforms grown Knick fans into babbling children, gets stuffy 50 year old accountants to jump around like Spike Lee, and elicits reactions of: "I swear I saw Jesus in shorts". No, not "Black Jesus" ala Earl Monroe's other nickname — just "Jesus".
Truth be told, here is what many Knick fans in bars swear to this very day: at his pre-injury peak Bernard King was a better small forward than Larry Bird and a greater scorer than Michael Jordan.
If that sounds crazy to you, please consult his peers again:
"I have never feared anybody that I've played against – Bird, Magic, Doctor, Michael – and I respect and love all of those guys… Bernard King is the only guy that ever scared the hell out of me."  — Dominique Wilkins [HOF 2006]
Listen to Dominique. Few in media will publically utter such words for fear of ridicule or straight-jacket. But we are not the crazy ones.
It is the rest of the sports universe that has gone insane.
Unless long dead, there is no other athlete in any sport whose gap between greatness and recognition is larger — even after this week.
The humiliations are endless.
Will Bernard make the Hall of Fame this year? Should King have made the NBA's 50 greatest players list? Will the Knicks finally retire his iconic #30 jersey?
The questions themselves demean NBA history. What about media?
In February, Lebron had six straight games of 30 points on 60% shooting, and ESPN.com lost their efficient minds, but no mention of King. Last year ESPN issued its 25 greatest playoff performances since 1978, and no King again. Sorry B, your 42 @60% and legendary Game 5 just weren't dominant enough.
In 1984, The New York Times closely chronicled King's nuanced brilliance in "Mysterious Moves" and "Never a Knick Like Him"", but on the 25th anniversary of that magical season, another small forward stole the show with a 10,000 word profile: Shane Battier:  "The No-Stats All-Star". [Author note: Going for cute here, but may have failed. NYT has consistently provided tremendous King/Knicks coverage].
What about the greatest player in Tennessee history, half of the famed Bernie and Ernie Show, and legendary Kentucky killer? When Kentucky coach John Calipari told his 2010 team that Bernard was talking pre-game trash in Tennessee's locker room, the youngsters responded:
"Who is Bernard King?", "What number is Bernard King?", and  "I'm guarding him?"
Ouch!
How did we get here?
Has there been some vast hide-King conspiracy? Not likely, but corporate interests have reduced the NBA's Golden Era to "Magic vs. Bird", and lesser victims include Kareem, Julius, Moses, Isiah, and the great small forward of the 1980's.
Bernard's knee injury alone doesn't explain it either. No one adds up career stats for Sandy Koufax, Gale Sayers, Earl Campbell, or Bill Walton. We know what happened to them.
Reasons for King's vanishing includes playoff-lore hijackings by Isiah, Larry, and Michael [see BK2: Genius Unchained]; his unspectacular style, his early-career substance abuse and off-court problems, his forgotten Warrior years, his teammates, and his plodding coach Hubie Brown [see BK3: Genius Contained].
It also involves a dysfunctional Hall of Fame and sports media largely incapable of recognizing historic greatness without historic teammates. Despite being voted Most Valuable Player by their peers, King (1984), young Michael (1989), and Lebron (2006) were all denied those awards by media, and had their status as "winners" questioned. Where players see lack of support, media perceives lack of maturity, but only a lack of imagination could deny King as champion beside Patrick Ewing [see BK5: The King of Peers].
King's past has been forgotten, a healthy future rarely imagined, but most of all, his present genius was never fully realized too far beyond his own peers, local fans, and a few journalists [3].
Bernard's game was historically unique, but he often gets lumped into a sea of history's high-volume scoring forwards. While The Tennessee Terror stormed on the NCAA scene with 42 points in his very first game as a freshman, his truer legacy can be found in his nation-leading 62% shooting.
Lebron James is receiving great credit for shooting 56% this year, but King shot 56% over a 5-year pre-injury prime (1980-85) and did it without any all-star teammates. The playoffs are where shooting percentages go to die (see Karl Malone), but King shot a stunning 58% in 18 Knick playoff games. Only the greatest ones maintain accuracy against playoff defense — our very best test for "unstoppability" across eras.
King also defied every selfish scorer stereotype. He was not a one on one player, never needed isolations, never took bad shots, and did it all within the game's flow. He was a scoring scientist whose quick release, midrange mastery, and disciplined shot selection have gone the way of Kareem's skyhook [see BK4: Genius Explained].
King also suffered from a pre-Jordan era where it was thought impossible to score like Mike, but win like Magic. If Jordan is any indication, Bernard was too unselfish. Jordan had more athleticism, style, and shot attempts, but not accuracy [see BK6: The Jordan Rules].
Today, Bernard is mostly remembered for his 60 points on Christmas Day, and scoring 50 points on back-to back nights in 1984. Mr. Hot Streak has now become Mr. Hot Game, and The King of Efficiency has been largely reduced to Jamal Crawford – a career 41% chucker.
Before Lebron's February outburst, the last great scoring streak came from Kobe Bryant in 2004. Back then, Scoop Jackson tried to educate the youth when he asked the obvious:
"What's up with the love? [Bernard] had scoring stretches that lasted seasons, not just games."
Jackson continued:
"He was a genius interrupted… The universal love that evaded his career was found scrolled inside a book penned by his peers."
Jackson's question was ignored, so a decade later the kids want to know:
"Who is Bernard King?"
Have a seat son and move over Mr. Battier, King's invisible genius must be explained.
II.   Genius Unchained: Bernard King vs. Isiah, Larry, and History
III.  Genius Contained: Bernard King vs. Hubie Brown 
IV.   Genius Explained: Bernard King vs. Youtube
V.     The King of Peers: Bernard King vs. Media
VI.   The Jordan Rules: Bernard King vs. Michael

Or you can always just ask his peers:
"Man, Bernard King, he was the truth."  — Bob McAdoo [HOF 2003]
[1] Beginning on January 14, King scored 1219 points (482-808) over the next three months spanning 40 regular season games averaging 30.5 points at a 59.7 average  (ending right before regular season's final meaningless game before the playoffs)
[2] It is highly unlikely that King's 40 games of 30 points on 60% shooting has been duplicated – even when factoring eFG. The highest FG% for a 30 PPG season is Kareem Abdul Jabbar who scored 32 points on .577 shooting in 70-71 and an incredible 35 points on .574 shooting in '71-'72. Adrian Dantley also scored 30.3 points on 57% shooting in '81-'82.
[3] Many journalists have helped keep King's memory alive. Special thanks to  Dennis D'Agostino,  Alan Hahn, Scoop Jackson, Bobbito Garcia and Ali, Bruce Jenkins,  John Hareas, Bill Simmons, Dave Zirin, Ira Berkow, Harvey Araton, Spike Lee, and others.
HANDS UP, DON'T SHOOT!

Raiders' Maurice Jones Drew

SPORTS: Power and Privilege

She Throws Like A Girl

Mo'ne Davis Leads Taney into LL World Series w/ 3-hit Shutout

Trayvon: Sports Speaks Out

SPORTS: Power and Privilege

Trayvon: Sports Speaks Out

Search